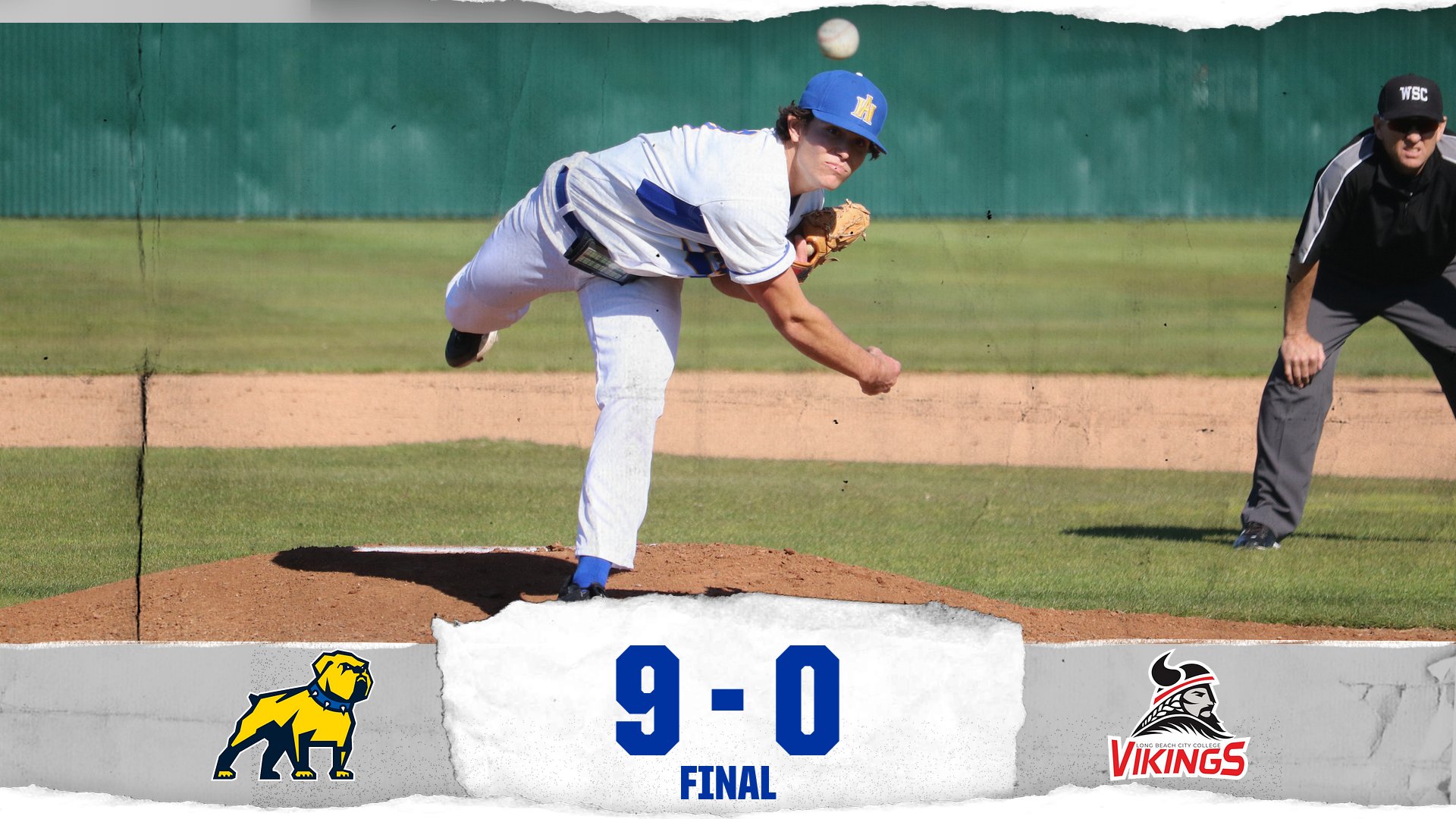 Bulldogs Blank Long Beach in Home Opener
Final
1
2
3
4
5
6
7
8
9
R
H
E

Long Beach

0

0

0

0

0

0

0

0

0

0

6

0

Allan Hancock

1

0

0

2

1

2

0

3

X

9

11

0
Pitching
Loss: Marcellus Henry (0-1)
Batting
Long Beach
2B: none
3B: none
HR: none
---
SANTA MARIA, Calif. - The Allan Hancock College baseball team stretched the active win streak to three after topping Long Beach City College, 9-0, in the home opener at John Osborne Field on Tuesday afternoon. | BOX SCORE
The Bulldogs (3-0) jumped out early after a double by Bridger Coleman plated one runner in the opening frame. The home squad extended the lead in the fourth with a pair of RBIs after a triple from Luke Wenzel and a single by Gavin Long, followed up by Coleman's RBI double in the next inning.
Tommy Kendlinger added to the effort in the sixth after scoring on a wild pitch, while Long plated one more on his first of two triples in the contest to close the inning. The scoring frenzy concluded in the bottom of the eighth after back-to-back triples from Elijah Bobo and Long both sent one runner home. Isaiah Hernandez registered the final RBI of the contest with a single through the left side that plated one.
Long led the way for the Bulldogs at the plate with a perfect 4-for-4 showing while registering three RBIs. Coleman also registered multiple hits, going 3-for-5 on the day, and recorded two RBIs. Long and Kendlinger were tops on the basepath for Hancock with one stolen base apiece.
Cooper Bagby earned the start and the win after a stellar performance on the bump. The freshman product of Ernest Righetti High School struck out four batters and scattered just four hits through six innings of work. Anthony Lopez and Dylan Pavletich also made appearances on the bump through the final three frames but did not factor into the final decision.
The Bulldogs are set to return to action on Thursday, February 2nd, against Rio Hondo College. Single-game tickets for the event, which is scheduled to begin at 2:00 PM at John Osborne Field, can be purchased here. As per usual, the ticketing gate will be cashless and fans are strongly encouraged to purchase their tickets prior to arrival, but credit/debit card purchases can be made at the gate.